Reon's digital marketing apprenticeship journey
Hear Reon's career journey so far and find out how he decided to pursue a career in digital marketing, starting with an apprenticeship.
Apprenticeships are hugely beneficial to job seekers, employees, employers and the general workplace. They provide training and progression opportunities for applicants and provide employers with the means to train staff within their business.

Anyone aged 16 or over can achieve an apprenticeship, and they are a fantastic entry point to working life or a new career. For National Apprenticeship week, we caught up with Reon Lawrence to hear about his digital marketing apprenticeship and how he got there.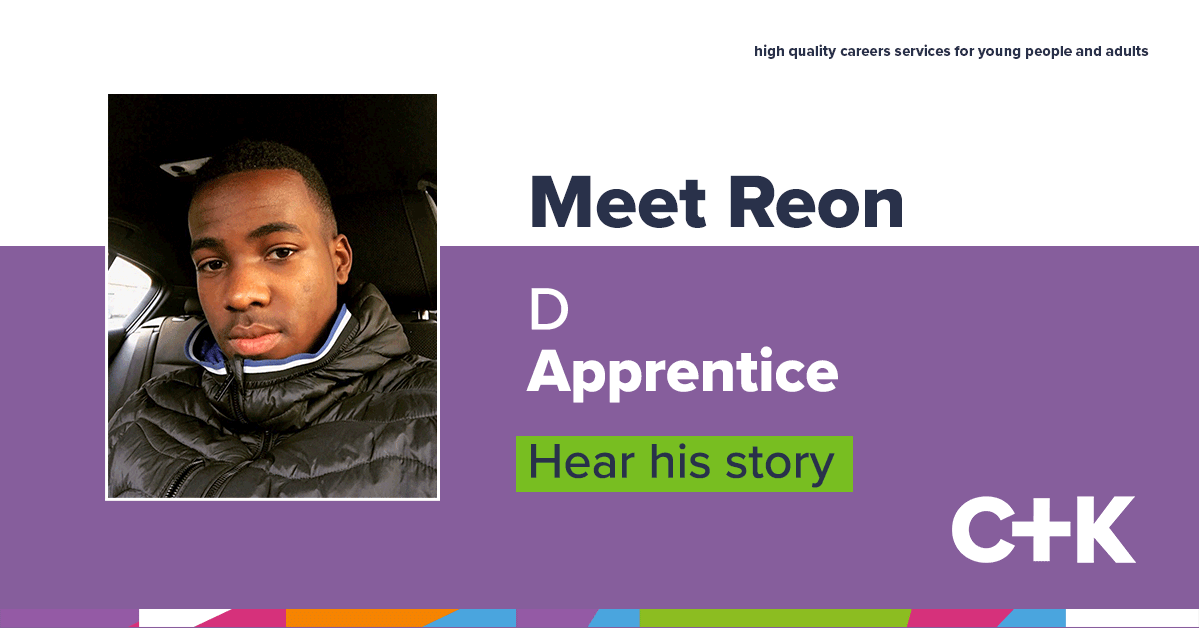 Hi Reon, please tell us about your background and where you went to school.
I attended All Saints Catholic in Bradley Huddersfield and grew up in Birkby Huddersfield, spending a lot of time in Dalton with my grandparents. Upon leaving school I passed all my core GCSE subjects, including maths, literature, language, and science.
What apprenticeship are you completing?
My apprenticeship is as a digital marketer, working at a manufacturing company in Huddersfield.
What are your responsibilities?
In my apprenticeship, my day-to-day duties involve social media management, and identifying and developing new ways to boost brand awareness and grow the reach of the company. My responsibility is to manage, curate and coordinate content for the social media platforms we operate on, mainly Twitter and LinkedIn.
Outside of my apprenticeship, my other role is as a property developer. I buy and rent properties, refurbishing them to a high standard and renting to families or individuals either as a whole unit or single room lets.
A day in the life as a developer varies, one day I could be dealing with landlords and letting agents to negotiate deals. On another day I may be putting my construction skills to use to get a refurbishment underway or completed.
When did you know you wanted to pursue a career in your current area?
From a young age, I have always wanted to pursue a career in property. My parents have owned and rented properties throughout my lifetime. I have always understood bricks and mortar to be one of the best investments and a great way to build wealth.
Digital marketing was something I began pursuing after I realised there were many potential opportunities in the online field. After I left school, I ran a few online drop shipping stores and quickly learnt how to leverage social media as advertising platforms to market and sell products.
I initially did this to make money after leaving school, rather than seeing it as a career path. However, I started researching online marketing jobs and saw the opportunities the were out there. I understood that the online marketing sector was only going to expand and continue growing. It was an area I knew would be beneficial to develop my skills within.
Why did an apprenticeship appeal to you?
I chose the apprenticeship route as I believed having hands-on experience in a marketing role would accelerate my learning and give me the chance to figure out if a career in marketing would be for me.
Where did you find out about it?
I found my apprenticeship through the gov.uk website and applied from there.
What was the application like?
The application process was simple and very straightforward, it didn't take me long to complete and submit.
How did you feel when you first started?
From my first day, I felt very comfortable in my role, and I felt as though it was a chance for me to learn about a less common way of marketing.
How do you feel about it now?
I have found I enjoy my role even more as time goes by. There are many reasons for this, such as knowing the company culture, adapting to their ways of working and understanding the service they offer to a deeper extent.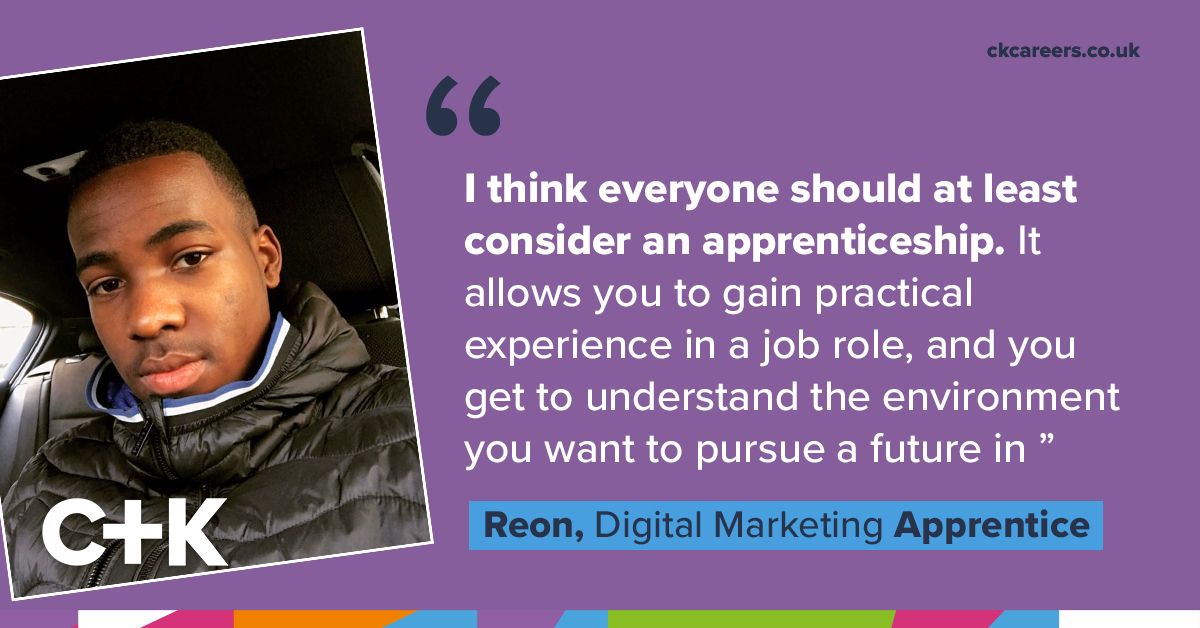 Have you gained experience that you wouldn't have otherwise?
I believe I have gained a lot of experience in this role that I potentially wouldn't have if I didn't go down the apprenticeship route.
My employer offers business-to-business services, which means the marketing methods we deploy are not the same as the marketing methods used to advertise to the general consumer.
Due to this, I have been able to explore a different side to marketing and gain experience using less common marketing methods.
Another area I have gained a vast amount of experience is social media copywriting. I understand how to effectively communicate a message and capture the attention of a target audience using different copywriting techniques.
What advice would you give to others considering an apprenticeship?
I think everyone should at least consider an apprenticeship, depending on the industry they want to go into. It allows you to gain practical experience of being in a specific job role, and you get a chance to gain a deeper understanding of the environment you want to pursue a future in.
For me, this is the best thing about apprenticeships as they allow you to fully understand if the daily reality of your chosen career and job role is for you.
What goals do you have for your career in the future?
I hope to continue learning and progressing in the marketing field. I want to expand my knowledge of how to promote and market effectively, to achieve the desired impact on your target market and meet or exceed campaign goals.
Thank you to Reon for sharing his career journey so for. Reon's story goes to show that developing specific and transferable skills helps you within your current career and supports future ambitions. We wish Reon the best of luck in his apprenticeship and beyond.
Celebrating local Black voices in business
We spoke to Reon as part of our 'Celebrating local Black voices in business' series, which shares the career journeys of Black people from our local area. Working with young people, we know how important it is to see relatable role succeeding in jobs and business.
The series aims to find out how each person found what they love doing and what steps they took to get there. First up was Imani Muhammad – we heard about her baking business, Coco's Corner, which you can read about here.