How Imani grew her baking business
Celebrating local Black voices in business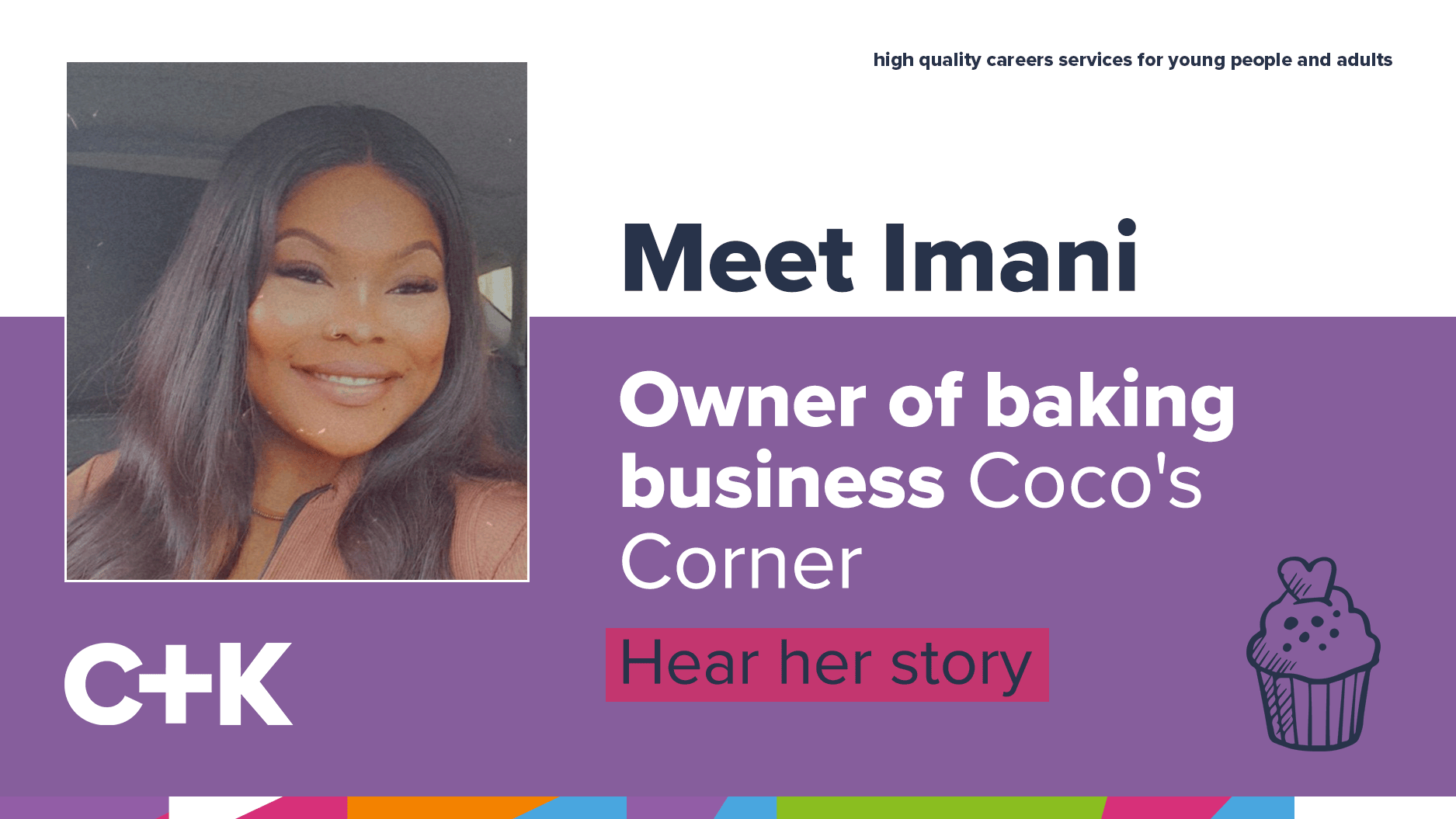 Imani's story
Working with young people, we know how important it is to see relatable role models and people from your community succeeding in jobs and business. Our Celebrating local Black voices in business series shares the career journeys of Black people from our local area.
In the series, we find out how each person found what they love doing and what steps they took to get there. Our hope is to share more Black voices from a range of professions to perhaps inspire some future careers.
First up is Imani Muhammad. Imani is from Greenhead, Huddersfield and went to Royds Hall High School. After several years working in a local primary school, Imani has started her baking business, Coco's Corner, which she runs from home.
Hi Imani, please tell us about your education and where you went to school.
Imani: I started my education journey at Birkby Infants and then Spring Grove Junior and Infant School, then went to Royds Hall High School. Following this, I went to Kirklees Highfields College to study Performing Arts.
I left school with all core GCSEs, with B to Cs including English literature, language, maths, physics, chemistry, biology, history, physical education and R.E. I also achieved a Spanish NVQ and my performing arts Level 2.
You run your own baking business now, Coco's Corner. This is quite a step away from your chosen GCSEs. Can you tell us how you got into baking professionally?
Imani: I hadn't really considered it as an option for me even though it was something my family and I, especially my grandma, always enjoyed. I had been working for Kirklees Council at a local primary school for 5 years and had just rejoined Kirklees College to study Level 3 Supporting, Teaching and Learning when lockdown happened.
Due to lockdown, school was closed, and I was relieved because I was not really enjoying my time in that place of employment. I was studying from home, so I had a bit of time to just play with baking and do things I didn't have the chance to before.
I was sick of paying for mediocre or not "made with love" desserts from dessert shops in my area. I wanted to make my own, especially things I couldn't get my hands on unless I'd been abroad like cinnamon rolls or sweet potato pie.
I baked for family events and friends and just started my journey from there. I wanted to bring something different to puddings and desserts, but with flavours and styles that everyone loves or may not have seen before but are eager to try.
I did a lot of research and spent copious amounts of time on YouTube and researching. I adapted different recipes, read blogs, and used my creative skills and travel experience to come up with different ideas.
I knew I didn't want to do the same things as every other baker. I wanted to put my own twist on what I would be putting out and what I wanted my brand to be.
On starting your own business, what steps did you take and what support did you look for to progress it?
Imani: Once I decided to take it more seriously, I researched the steps I needed to take to become a business owner, which included registration and completing different courses.
My family encouraged me to pursue everything and supported me throughout the process. My mum especially helped with building up some of my equipment, buying my Kitchen Aid mixer and other equipment I would specifically use for my business baking.
I watched a lot of videos on YouTube from a girl who had set up her own business during lockdown, which provided me with lots of knowledge and insight. She shared links to the various groups I've now joined on Facebook related to baking and home baking.
I used this online community to find advice on inspections, pricing, baking, and where to buy cleaning supplies and other essentials.
My family and friends helped by being my testers for the different recipes and provided me with different opportunities to practise my skills.
What courses did you need to do to set up your own home baking business?
Imani: I had to register with the local council and complete my Level 2 Food Safety and Hygiene – I have now achieved a 5* hygiene rating. I also undertook allergen and intolerance courses for my own knowledge.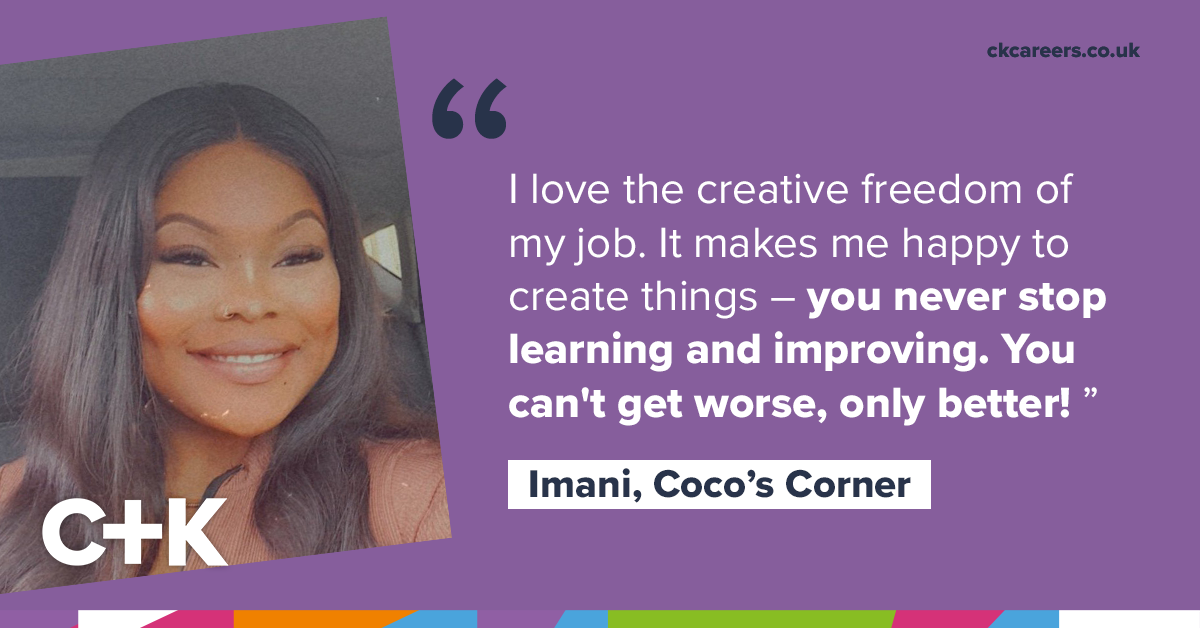 What do you enjoy most about your work now?
Imani: The creative freedom. I enjoy being able to take simple things and turn them into something that looks good, tastes good, and leaves you wanting more. I enjoy being able to bring visions to life or recreate something that brings back good memories.
It genuinely makes me happy to be able to create the things I do, as well as the fact you never stop learning and improving. You can't get worse, only better!
What ideas do you have for Coco's Corner in the future?
Imani: I want to be able to expand Coco's Corner by supplying local small businesses, cafés and dessert shops that are looking for the type of produce I make. I would like to be an online brand with a website shop and have my own small bakery that people can visit.
I hope to expand enough to do this full-time, providing my new and old customers with exactly what they are looking for, or surprising them with something new. I want to continue bringing their visions to life, whether it is for a wedding, baby shower, birthday or to say thank you.
My three young nephews love my baking and love to bake with me. At some point in the future, I hope to use my teaching and baking knowledge to run a small baking club for young children who have an interest in baking!
Finally, if you could, what advice would you give to yourself when you were at school?
Imani: Don't stress too much about trying to fit into the boxes that you think you need to be in to succeed. Your time will come.
Thank you to Imani for telling us about growing her home baking business from scratch. Imani's story goes to show that if you find your passion later, it's possible to change your plan and do what you love. You can find Imani's business, Coco's Corner, on Facebook and Instagram.