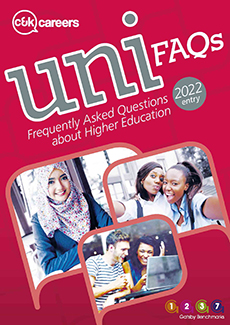 £85.00
UniFAQs 2022
Frequently asked questions about higher education
UniFAQs 2022 is an A4, 32 page booklet, available as a PDF. The booklet covers all aspects of choosing, applying to, financing and studying at higher education level. Much of the content is aimed at those applying from England.
UniFAQs 2022 leads young people from their initial thoughts about higher education, through the application process and on to researching their choices after graduation. As well as looking at the traditional full-time higher education route, it also provides information about alternative ways of achieving higher education qualifications, such as through degree apprenticeships. At the back of the booklet, a comprehensive directory of useful sources of information enables students to undertake further research. Students who are currently at university, have also contributed their thoughts, hints and tips about applying to, and being in higher education.
UniFAQs 2022 supports schools and colleges with meeting Gatsby Benchmarks 1, 2, 3 and 7.
Published: March 2021